Introduction:
The Tribal Administrator is responsible for implementing and executing resolutions and directives passed by the Ermineskin Cree Nation Chief and Council; as well as administrating policy and procedures, and supervision of employees and departments.
Vision Statement:
Vital in the effective implementation of all services that meet the needs of Ermineskin Cree Nation
Mission Statement:
To provide leadership and administrative support in maintaining operational excellence
Value Statements:
Respect- We acknowledge and recognize the important roles of elders, leaders, citizens and staff who work for the betterment of our nation
Integrity- We are honest and have strong moral principles
Accountable- We are responsible for our actions in administering and upholding policies of Ermineskin Cree Nation
Chief's Secretary: Rachael Lee
"My duties include establishing Ermineskin Cree Nation Chief Randy Ermineskin's Office as the main point of contact for Jurisdictional Purposes such as: Developing and ensuring protocol is followed when in contact and communication with Industry, Government, Legal Counsels, and Ermineskin Cree Nation Members. I serve as liaison between ECN members and Chief Makinaw. When our membership has concerns about how to resolve issues they have, the Ermineskin Cree Nation and the various departments that serve our Nation work together to find solutions that fit within those programs. I bring attention to these matters on your behalf to our leadership and/or any relevant department managers or directors. All members are treated with respect and all information is kept confidential." -Rachael Lee
Administration/ Executive Assistant: Fran Minde
Under the direction of the Ermineskin Cree Nation (ECN) Chief and Council and Tribal Administrator, the incumbent in coordination with ECN Council Secretariat Coordinator will be responsible for the following duties; to work in a business-like manner and maintain a good working relationship with the ECN Chief and Council, Tribal Administrator, Assistant Tribal Administrator, Directors and Managers.To take and maintain messages for Tribal Administrator when requested. To take and maintain messages for ECN Chief and Council and Council Secretariat Coordinator when requested. To record and transcribe minutes of the ECN Chief and Council meetings when requested and to ensure that they are available as soon as possible and/or ready before next meeting for adoption.  Attend other meetings and/or public events as assigned and/or requested by Tribal Administrator and to assist in the preparation of meeting summaries to ECN Chief and Council.
Council Secretariat Coordinator: Esther Crane
"It is my responsibility to ensure Chief & Council's monthly schedule is kept up to date and they're made fully aware of any changes to it. I'm also the person that books meetings with various outside agencies and government offices. I take calls from members that need to bring their requests to Chief and Council, usually for a Regular meeting. I prepare agendas for C&C meetings, I do the minute taking, prepare motions and BCRs for these meetings. I make sure all these documents are filed away." -Esther Crane

Council Secretariat Assistant/Mail Clerk: Roxanne Morin
Council Secretariat Assistant/Mail Clerk is under the direction of The Administrator. This position oversees all incoming and outgoing mail to each Ermineskin Cree Nation Department. She also manages the filing process of Council documents, as well as takes messages and calls for Council when Council Secretariat is away.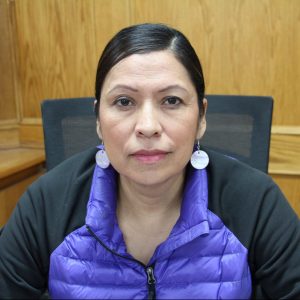 Research Technician/Community Service & Wellness Interim Director: Maureen Wildcat
The incumbent is responsible in overseeing the operations of Ermineskin Cree Nation departments under the Community Services & Wellness: Neyaskweyahk Memorial Arena, Brighter Futures, Daycare Centre, Elder's Centre, Sports & Youth Development, Tribal Support Services, and Independent Living Home and Home Care. The CS Director will ensure the CS division's departments operate according to policies, budgets, and strategic plans. The Director will provide leadership and assist managers with all aspects of management (i.e. planning, policy development and budget controls and act as a liaison between Managers and Tribal Administrator. Position is under the supervision of the Tribal Administrator.
Strategic Planning Manager: Tamara Wildcat
The Strategic Planner is under the direction of the Tribal Administrator, the primary responsibility of this position is to insure that all Ermineskin Cree Nation Departments follow a strategic planning process and develop a department strategic plan that aligns with the ECN Chief and Council strategic plan
Community Wellness Facilitator: Gordon Minde
Under the direction of the Tribal Administrator, the incumbent is responsible for the implementation of the Community Wellness Plan and organize wellness events. The Coordinator will work with ECN executive management to ensure that all Departments incorporate wellness into their annual plans and budgets. The Coordinator will ensure that the Community Wellness Plan continuously evolves to achieve the vision of the said plan.
Events Coordinator: Elvin Wolfe
The Events Planner is responsible for supervising and overseeing the planning, design, production, promotion, profitability and overall coordination of events. The Planner is expected to delegate tasks and provide support to subordinate event planning staff to ensure event success. Sourcing venues, liaising with entertainers, speakers and exhibitors, and overseeing events are required tasks for this role. Other duties include, but are not limited to, reviewing and arranging appropriate accommodation, transportation, catering, signage, promotional materials, procurement and security. The Planner will also be required to establish and monitor the event budget within the established guidelines. Other duties will be assigned as necessary.