---
December 11th, 2020- Community Wellness will be offering a drive-thru Christmas event, "Candy Cane Lane," at the P&R building on December 16th from 4 to 7 PM. Turkey hampers are being distributed at the Jim Rattlesnake building each day from noon until the daily supplies run out. If you are unable to get a hamper, please return it the next day. Our first shipment ran out very quickly and EIRD staff will be distributing each day starting at noon and will be out each day, including the weekend, until all hampers are distributed. Please be aware that there are only 10 people total allowed in the Ermineskin mall at any time. Please be patient and kind while picking up hampers and cheques, it is a stressful time for us all and the staff are working hard. As before, essential services will continue to operate as they have previously. The new Alberta guidelines will not affect our operations, as we have set in place our own guidelines to protect our community, as well. Those who are able will be working from home. As of December 10, 2020, there have been 537 total cases in Maskwacis, with 168 active cases, 369 recoveries, and 8 in hospital. There have been 3 deaths due to the virus so far. The Government of Alberta has set in place new guidelines in their effort to battle swelling case numbers of COVID-19. There is now a province-wide mask mandate. Effective December 8, all indoor and outdoor social gatherings are prohibited. This will be enforced in Provincial jurisdictional areas, off-reserve, with $1,000 fines. Effective at 12:01 AM on December 13 further restrictions will be put into place. All retail properties must limit occupants to 15% of fire code regulations. Many entertainment properties will be closed for a minimum of 4 weeks, including restaurants, bars, lounges, cafes, casinos, bingo halls and theatres. All indoor recreation facilities must close, including gyms, spas, pools, indoor rinks and arenas, community halls and centres. Restaurants will still be able to offer delivery and takeout. Personal and wellness services must also close, including piercing and tattoo shops, salons and barber shops, and massage therapists. Regulated health services can remain open by appointment only and should be limited to one-on-one services. Professional services can remain open by appointment only. Social services can remain open for in-person services including social, protective, or emergency services, shelters for vulnerable persons, and not-for-profit kitchens, religious kitchens and soup kitchens. Local RCMP have asked that youth please stay home to cut down transmission. Even if someone has no symptoms, they may still be contagious. The vaccines that are on the way signal light at the end of the tunnel, but we must still buckle down to keep our community safe. Kinanaskomitinawaw. Stay Safe, Stay Home and stay vigilant.
December 4th, 2020- Leadership will be having a meeting deciding if a longer shutdown is needed for ECN Offices. To stop the spread of Covid-19, Santa's Anonymous has been cancelled. We understand that a lot of families utilize this program, and we do regret to info the public that it will not be operating this year. Also, a reminder to please follow the Health and Safety guidelines at our Maskwacis Post office, Security will be monitoring the traffic of people coming in going, as it is busy during the holidays. Ay Hay
November 19th, 2020 – Ermineskin Chief and Council agree to do a complete shutdown of the Ermineskin Tribal Administration offices from Monday, November 23, 2020, to December 7, 2020. This decision was based on the recent increase of COVID positive cases in Maskwacis. The safety and well-being of all ECN employees and citizens are paramount during this time for the Chief and Council, along with the Emergency Operations Committee. It is very important to follow safety protocols are that currently in place, and as set out by AHS/MHS - wearing of face masks, hand sanitizing, and social distancing. We are also urging to minimize family gatherings. We all must do our part in flattening the curve of this virus in Maskwacis. Please remain calm, do your part by following all safety protocols. Be safe and stay healthy, we are all in this together. Furthermore, appropriate disinfection protocols are scheduled and implemented. The office closure is effective Monday, November 23, 2020. The following will be also in effect:
All staff that can work from home are to do so
All meetings are to be done by video or teleconference
Schedule the disinfection of the Administration Building
When staff returns in December a rotation of staff will be developed and implemented
All bookings for the Neyaskweyahk Okimaw Kamik will be postponed until further notice
Tribal Administration shut down will not apply to NHS, Women's Shelter, KKI and essential services
Stay home if you are feeling sick
November 11th, 2020- ECN Property Management Offices will be closed due to a Confirmed COVID-19 Case within the staff. MHS has started the necessary contact tracing. Please be advised that the EMP Office will be closed from November 12th - November 20th, 2020. Emergency Calls will still be serviced.
November 10th, 2020- With the Covid-19 cases continuing to rise within the community of Maskwacis and Ermineskin, ECN Leadership have decided that the office closure will be extended until DECEMBER 17TH, 2020. Ermineskin administration, programs and services will remain closed. The essential staff will work Tuesday to Thursday, 10:00 am - 4:00 pm. Offices will remain closed to the public unless an appointment has been made prior. Our Emergency Contact List is available for those who need essential services or after-hours services.
November 7th, 2020- An employee at the Maskwacis Post Office has tested positive for COVID-19. The POst office will be closed until November 9th, 2020. We are following the guidance of public health in informing the staff, supporting contact tracing and conduction thorough precautionary sanitization of the facility.
November 2nd, 2020- ECN Administration, programs and services will be closed for the week of November 2nd until November 9th, 2020. Essential staff will work Tuesday to Thursday, 10:00 am - 4:00 pm. Offices will remain closed to the public unless an appointment has been made prior.
October 24th, 2020- ECN Office closures will be extended to November 2, 2020. Essential Services will continue to operate. The ECN offices are CLOSED to the PUBLIC, we ask the public to please do not enter the public buildings at this time, this is to ensure the safety of those essential services staff at work. We ask that the public please follow the safety measures in place, and to use the emergency contact list to reach those departments for services needed.
October 13th, 2020 - Due to the rise of COVID-29 Cases within Ermineskin and Maskwacis, The Four Nation's Chief's are working together with Maskwacis Health Services and the Emergency Management Teams, and have decided on an additional two-week office closure, effective as of OCTOBER 13TH, 2020. Essential services, the gas bar, bank and businesses will be limiting persons, allowing only those with proper PPE such as masks and hand sanitizing.
October 7th, 2020 – To take extra safety precautions, ECN leadership has decided that it would be best to close the offices to help protect our staff, as well as our community. The office's closure will be effective as of October 7th, 2020 and will continue until October 13th, 2020. Our essential services will continue to operate. Please contact their emergency numbers should you need any emergency services.
October 6th, 2020 – Maskwacis Health Services notified Ermineskin Director of Management of an individual of Ermineskin Cree Nation who has tested positive for COVID-19. The individual was told to self quartine after being tested on September 28th, 2020. Maskwacis Health Services have already conducted contact tracing, and have contacted those who have come in contact with the individual. ECN Leadership and Maskwacis Health Services want to ensure community member that there is no immediate threat to the public, but you should be following public health protocol such as:
Wearing a face mask in public
Maintain Social Distancing
Clean Commonly touched surfaces
Frequently was haves for twenty (20) seconds
Avoid Contact with sick individuals
Stay home if you are feeling sick
September 8th, 2020 – At a duly convened Chief and Council meeting held September 4th, 2020, a motion was approved regarding the Administration office operations. Effective September 8th, 2020, new office hours will be 10:00 a.m. until 4:00 p.m. on TUESDAYS, WEDNESDAYS, and THURSDAYS. This will be reviewed again by the Chief and Council at the end of September.  All safety precautions will remain in effect-by appointment only, mandatory face masks, hand sanitizing, and social distancing. Buildings will still be closed to the public. ACCESS TO SERVICES WILL BE BY APPOINTMENT ONLY.
July 14, 2020 – As of today, there are no confirmed cases of COVID-19. Citizens are encouraged to get tested if you should start to show any symptoms as soon as possible. Due to the circumstances that had happened in Samson Band on July 15th, 2020, as a precautionary measure, ECN Leadership (with recommendations of the ECN Emergency Operations Committee) have made the following changes: Security Operations are now 24 hours, 7 days a week. The curfew will return to 10:00 pm - 6:00 am, as well as all non-essential services within Ermineskin will be closed for a two week period. ONLY Essential Services will continue to operate, only for emergency services. All ECN Department Buildings will be closed off to the public.
June 6th, 2020 – The New ECN Office Hours will be Tuesdays and Thursdays, 12:00 pm - 3:00 pm for all departments, while all essential Services (Fire Dept., Public Works, Security, etc.) will continue to operate during regular full hours. ALL ECN Buildings are now closed to the public. If you should need access to any of the offices, you must make an appointment. Hampers will also be delivered from June 8th - June 12th, depending on the weather and road conditions. The ECN First Annual Yard and Garden Contest were held.
May 6, 2020, – Ermineskin Cree Nation Administration operations will continue to be limited, be advised the office building remains closed to the public until further notice, only essential services and staff will be in operation. ECN office hours are from 1 pm to 3 pm on Mondays and Wednesdays ONLY. If you need to reach staff you may call during those hours on Mondays and Wednesdays, or you can contact them by email, which you can find on the staff listings webpage on the Ermineskin Cree Nation Website. Concerning safety, Curfew and Security Checkpoints will remain in place. We advise citizens to respect and abide by the security measures that are in place for the health and protection of all our members. Any violators will be fined and actions will be taken to ensure the law is being enforced. We hope all members are aware of the seriousness of the infractions of this law, and their implications. he leadership and the Ermineskin Emergency Response team are doing what we can to aid and assist our citizens during this pandemic; there are supports available for our nation citizens residing on and off-reserve, including Pigeon Lake, Buck Lake, and Small boy Camp.
April 22, 2020, Council of Ermineskin Cree Nation deems it to be in the best interests of Ermineskin to amend 1992 Curfew Law (can be found on the External Affairs Webpage) to respond to the emergency, to secure the health and safety of individuals attending at or residing on the Ermineskin Cree Nation's Reserve lands, to encourage the observation of law and order and to prevent disorderly conduct and nuisances on its reserve lands.
March 25, 2020, A State of Emergency is hereby declared by the Samson Cree Nation, Ermineskin Cree Nation, Louis Bull Tribe and Montana First Nation effective March 22, 2020, covering all citizens of our Nations and those residing within our territory of the Maskwacis Cree. The State of Emergency has been declared due to the COVID-19 outbreak that is a global pandemic as declared by the World Health Authority. This pandemic threatens the health, safety and lives of our citizens.
March 16, 2020, – ECN leadership activated the Emergency Operations Centre (EOC) in response to the Level 4 Category Risk as identified by Alberta Health Services; this included enacting the EOC committee as a responsive team. The EOC Committee consists of ECN Program Directors inclusive of NGCI, Children's Services, MHS, Maskwacis Ambulance, MESC and RCMP. Greg Minde is the Director and point lead to oversee the Ermineskin Emergency Operations Centre Team (See video below).
March 11, 2020 – ECN department directors and managers underwent First Nations Emergency Management Training Certification.
---
Ermineskin Cree Nation has taken the following precautions and measures that have since been implemented:
Most ECN Programs and Services have closed or are now working from home to ensure the safety of our employees and citizens, with the exception of essential services Administration is open with adjusted hours: Mondays and Wednesdays from 1:00 p.m. to 3:00 p.m
Essential Services in areas such as Health, Fire, Police, Finance, Housing, Food Bank, Water Delivery and Garbage pickup will operate as needed. Housing service calls will be limited to ONLY those regarding no heat, no water, and sewer back up issues.
Food Bank Services now require appointments as no walk-in will be accepted.
Our citizens were given distribution to help them to obtain supplies, and food as needed for their families
Elders were provided with Elders relief assistance (for 60 and older)
External organizations such as local businesses have also implemented their safety and risk management plans to integrate pandemic preparedness to COVID-19
Public facilities have been closed and ALL public events have been cancelled.
For safety measures, disinfection and sanitization of ECN facilities has been made a priority
ECN Hunters were deployed to harvest and gather meat for our Elders and families in need
---
Maskwacis Health Services
"The Mission of Maskwacis Health Services is to improve and provide quality holistic health programs and services to the Maskwacis Peoples. Maskwacis Health Services will provide the highest quality, comprehensive health care delivery system for all the members of the Maskwacis Peoples.
To keep up with constant updates on The COVID-19 Pandemic, please visit the Maskwacis Health Services website or the Maskwacis Health Services Facebook Page
MHS Testing Schedule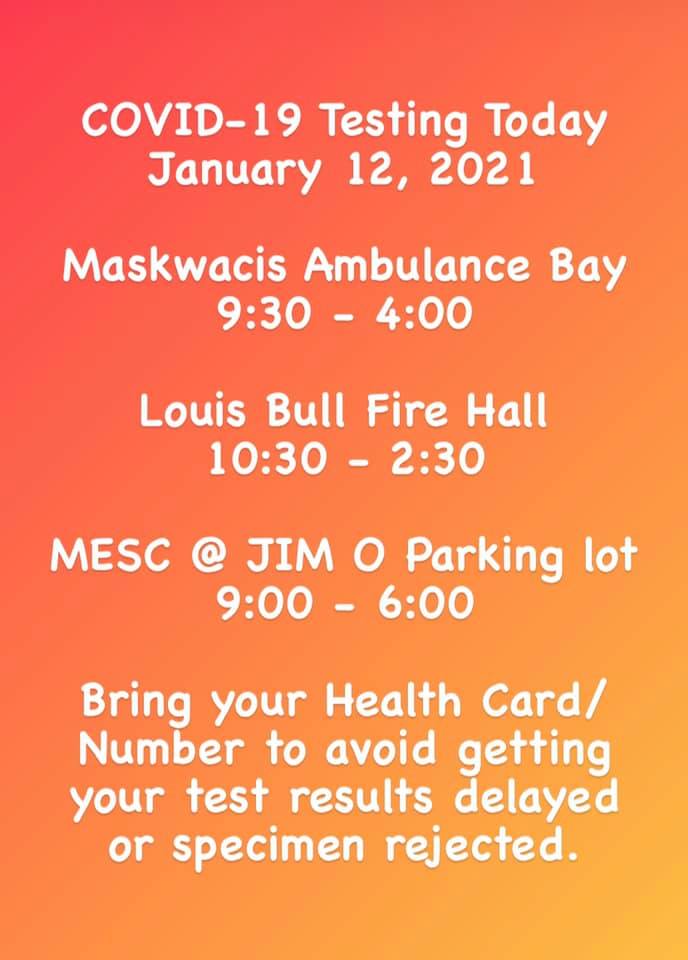 Covid-19 Cases in Maskwacis
---
---
Ermineskin Curfew By-Law
As of APRIL 22, 2020 there will be a Curfew that applies to
ALL ERMINESKIN RESIDENTS & NON-RESIDENTS
who reside on Ermineskin Reserve. All Ermineskin Residents must be inside their homes between the hours of
12:00 am to 6:00 am, 7 Days a week.
See the official By-Law on the
External Affairs Webpage.
COVID-19 Financial Supports
For Ermineskin Members, on and off-reserve, who are in need of Support Services, go to the ECN Support Services Webpage. There is an application process list, as well as Client forms as a Downloadable PDF that you can print off at home and an ECXEL Form that you can fill out and email to the Support Services Administrator: Christina Aguilar Sanchez
Below are multiple programs and services if you should need any financial aid during this pandemic.
---
Ermineskin Chief and Council Video Updates
Update December 17, 2020
Update December 11, 2020
Update December 4, 2020
Update November 27, 2020
Update November 21, 2020
Update October 30, 2020
Update October 25, 2020
Update October 11, 2020
Update October 7, 2020
Update July 14, 2020
Update June 3, 2020
Update May 6, 2020
Update May 6, 2020
Update April 23, 2020
Update April 16, 2020