Kanawemahwasowin Kamik Events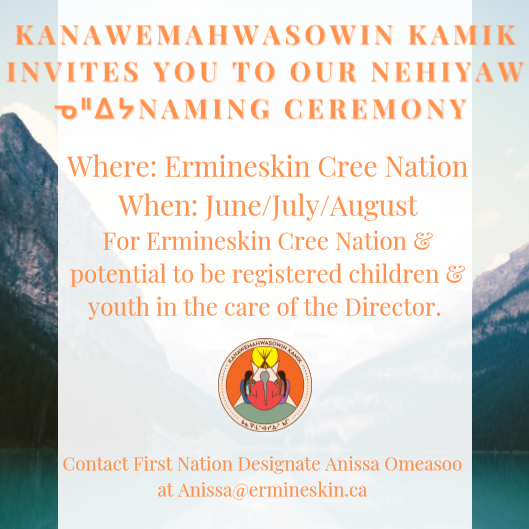 ---
Kanawemahwasowin Kamik Law Development - Nation Gathering. Honouring Our Nation Member Voice and Contributions
Knowing that Ermineskin Cree Nation is in the process of developing our own law as it relates to the Prevention, Preservation and Protection of our children, youth and families. We want to ensure that we are creating every opportunity for our Nation Citizens to share their thoughts, hopes and vision as we go forward in our law development. Keeping in mind that our law will come from a preventative approach as primary response and one that will also address off reserve citizens. Please be meaningful and thoughtful in your response as this not only impacts today but our future as a collective as we begin to take back the care of our children, youth and families that are vulnerable to today's challenges.
---
Overview
The department serves to be actively involved in providing support and advocacy to those Ermineskin Member parents and children that have involvement with Delegated First Nation Authorities (DFNA) or Child and Family Services (CFS). This would be at all levels of involvement from Intake to Permanent Guardianship. We advocate for least intrusive measures for our families that have involvement and request for parents and family support to be brought in sooner. We also advocate and support children going home to parent(s) and we also search for family for placement options.
The department will continue to maintain positive, collaborative, working relationships with DFNA's and CFS to improve services to Ermineskin children in care. We provide consultation to DFNA/CFS staff to assist with planning to ensure that the children in care are being connected to parents, family, culture, traditions, spirituality, and language. We assist with brief prevention services to parents that have DFNA/CFS involvement and to those children in care. We advocate, support, and connect parents to resources, and Legal Services available to help them through the court process such as Legal Aid, Duty Counsel, Native Counselling Services. We can also assist children and youth with mentorship, one to one work, connection to resources and programs available.
Chrystal Hill
MSW.RSW: Executive Director
---
Chrystal has since lead the team and work in a progressive direction where Ermineskin will exercise inherent and jurisdictional right on how our ECN children and families are supported. Chrystal brings with her 20 years of direct experience in the social work profession and of that 16 years within Children's Services. Having worked a robust practice within Children's Services; she comes with a diverse knowledge of such a system. Chrystal is currently completing her PhD in Social Work. She graduated from University of Victoria with an Advanced Graduate Degree in Social Work and also has a Bachelor of Social Work from University of Calgary. Chrystal is passionate about Indigenous social rights, creating opportunity for greater success for our children, youth and families and empowers a team to be innovative all while compassionate.
Tennille Makinaw BSW.RSW: Manager
BSW.RSW: Manager
---
Tennille brings with her several years' experience in the social work profession. To compliment her social work practice she also brings with her experience in the education field. She holds a Bachelor of Social Work from the University of Calgary. She is currently a registered social worker with the Alberta College of Social Workers. Tennille has a strong belief in the direction that KMK is taking in terms of how services are delivered to our Nation citizens. She makes note that it is about creating strength and hope based practices for ECN children and families. Tennille also shares that she is excited to be building working relationships with our Nation members and agencies; that foster better outcomes for our children and their families.
Anissa Omeasoo
First Nations Designate
---
Anissa has joined Kanawemahwasowin Kamik Incorporated (KKI) as the First Nations Designate. Anissa recently graduated with a Social Work Diploma from Maskwacis Cultural College and will continue with her Bachelors of Social Work. Anissa looks forward to starting her career in a field she is passionate about and also looks forward to working with and for our children, youth and families of Ermineskin Cree Nation.
---
Kanawemahwasowin Kamik Video's of Meetings and Events